Roman shades have staying power when a dining room is rearranged
Oct 19 2011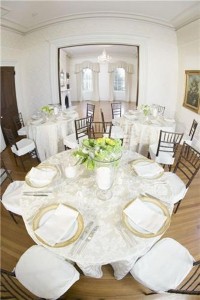 Dining rooms can be reconfigured to suit the occasion.
Virginia-based designer Raji Radhakrishnan has found a way to get more use out of her dining room.
By setting it up different seating areas in the room, she's always ready for casual gatherings.
A sofa and a small table, as well as other seating and end tables are arranged in the dining room until it is needed for a large dinner.
"Once or twice a year, when I do want a traditional dining room for a holiday meal, I can put the small furniture pieces to the side and move in the big kitchen table," she told HGTV.
Other designers interviewed by HGTV agree with Radhakrishnan's approach. They suggested pushing the table against a wall or at the far end of the room to allow room for other furniture pieces, such as a desk. Some easy chairs around an end table can create a comfortable reading nook.
One thing that doesn't have to be changed in a dining room is the choice of
window coverings
, particularly if they are as timelessly classic as
roman shades
. Currently, Blinds Chalet is offering a closeout sale on selected roman shades, including satin, suede and textured linen finishes. Consumers who buy three sets get one set free.
Bookmark/Share this page: