Family rooms need window treatments that shed light on activities
Sep 16 2011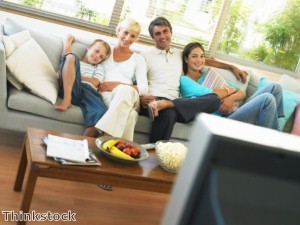 Family rooms can be "zoned" for different activities that appeal to the whole family.
Family rooms should be just that - rooms that cater to the interests of all members of the family.
They can provide relaxation for adults, a play area for children or a music practice space for a budding musician. But to give equal attention to everyone in the household, a family room should be divided to address the different uses planned in it, according to interior designer Candace Olson.
On HGTV, which features Olson's show Divine Design, the designer took on such as project.
"I divided the room into three zones: a relaxation zone, a music zone and a wet bar zone," Olson told HGTV. "By creating different zones for different needs, adding hard-wearing furniture and flooring, and topping it off with vibrant accents and details, the [room] got an injection of style the whole family can enjoy."
The activities within family rooms often require a good amount of light.
Fabric roller shades
from Blinds Chalet are a good choice for a window treatment in these spaces because they can easily control how much light comes into the room. They can also be matched to other colors and patterns used within the family space's décor.
Bookmark/Share this page: