Woven shades are a great addition to covered porches
May 26 2010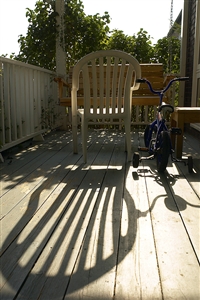 Woven shades are a great addition to covered porches
Homeowners lucky enough to have covered porches will soon be enjoying these sunny rooms as the temperatures continue to climb. But decorating a space that combines both indoor and outdoor aesthetics can be tricky. Painted floors and
woven shades
, however, can turn a standard covered porch into an elegant area.
"Covered porches are a heavenly part of American life," decorator Rita Konig told the New York Times. "And I like to treat these outdoor rooms pretty much as I do the indoor ones." Homeowners should think of the things that make them most comfortable when in a room, and use these ideas as a guide for the semi-outdoor room. Blinds Chalet also offers a line of
durable covered porch shades
to make the porch even more enjoyable.
Konig suggests painting the porch's floor. "The painted floor makes the porch much cozier, in the same way that a rug does inside, adding zip to those narrow gray floorboards so often found on porches."
Window treatments
are another important element. Since sunroom walls are primarily windows, shades are paramount in controlling privacy and the amount of sunlight let in. Experts at MyInteriorDecorator.com suggest woven shades, as they shield sunlight without compromising the room's aesthetic. Shades with an open weave will even permit the summer breeze to pass through while still blocking the sun.
Bookmark/Share this page: