Horizontal fabric shades are a good choice for a white-based room
Nov 18 2011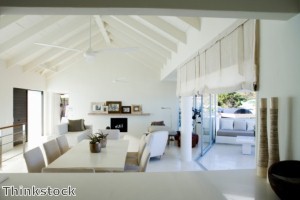 The right mix of neutrals or brighter colors can offset a white room to its best advantage.
White may go with anything, but homeowners have to make an effort to balance it with the right choice of colored accessories.
One factor to consider is the variety of whites and off-whites that exist, including some with gray or blue undertones and those with beige or brown tint. According to HGTV, home decorators should take care when selecting different tones of white for carpeting, flooring and
window treatments
.
"Whites range from blue-tinged to red-tinged with hundreds of variations," the website warns.
Although it has the ability to brighten a dark space and the versatility to work in any season, white still needs help to create visual interest by layering different textures and patterns. One way to achieve this is through a faux paint method such as striping, ragging or combing in different tones of white.
As a window treatment, horizontal fabric shades from Blinds Chalet can continue the white palette, but also add some contrast in texture. By keeping the window and wall color similar, the flow of color isn't interrupted and can make a space look larger. Right now, the company is offering special discounts on both solid color and print horizontal fabric shades.
Bookmark/Share this page: