Loading...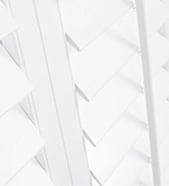 Wood alternative shutters are made from synthetic materials but look like real wood. Choose from materials such as vinyl or a composite combination of real wood and synthetic materials.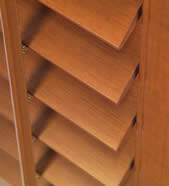 Add beauty and elegance to any home decor with real wood stains and paints. Our wood plantation shutters are built to enjoy a lifetime.
Plantation shutters are excellent for light control and privacy. Shutters are excellent insulators and come in a wide range of paints and stains. Easy to clean smooth finishes that look like real wood. Offering both composite and vinyl shutters made in the USA. Our plantation shutters offer light control, privacy and style. Order your window shutters online today from Blinds Chalet!

Shutters have long been used in cottage-style decorating, but they also have a clean geometric look that's well-suited to contemporary interiors. In traditional décor, they convey the feel of old world European window treatments. Interior window shutters are excellent insulators and come in a wide range of paints and stains. Easy to clean smooth finishes look like real wood. At Blinds Chalet we offer composite shutters and vinyl plantation shutters.

Blinds Chalet offers interior window shutters that will coordinate with all these decorating styles in white and off-white as well as wood stains that include honey maple, golden oak and cherry. Our interior window shutters are great for the DIY.

Our online window shutters are made from a combination of wood and synthetic materials, composite shutter blinds for windows offer excellent light control and privacy as well as a high-quality look for an affordable price. With discount coupons and ongoing sales offered by Blinds Chalet, shutters are affordable as well as functional.

The combination of hardwoods and durable polymers helps composite shutters retain their shape, color and appearance by withstanding warping, cracking and chipping. They also feature a shutter tilt bar with a "no mouse hole" design that allows each louver to close tighter in both directions. The spring-loaded design minimizes light gaps on the side of each louver for added privacy and light control.