* Production lead times are only an estimate and does not apply to any colors that are out of stock. Production begins the following business day after ordering. Please allow additional time for shipping.



Roman Shades are a classic timeless look for your windows. Roman blinds are beautifully hobbled to give you a "tear drop" look on your windows. Light filtering Roman shades allow a soft ambient light to enter your home and still give you total privacy.
Looping cord control for ease of use on larger sizes
Many different styles and colors to choose from
Room darkening available
Available in woven wood look
Made of durable polyester
Cords come in white and off white only
Roman Shade Side by Side Alignment
When roman shades are installed side by side, panel alignment cannot be guaranteed within 1/4" only if:
The shades are the same color and ordered at the same time
Side-by-side lineup is specified at ordering
The sum total of the widths of all shades needing alignment is less than 90"
Finding the right kind of window treatments for your home can be a hassle, especially since there are so many options to choose from. You can opt for drapes to beautify the space, or blinds for some functionality. But perhaps what you need in your home is the perfect blend of sophistication and practicality that can only come with roman shades from Blinds Chalet.
Roman shades differ from other window treatments in that the panels are pulled up with a whole fabric and they stack up evenly at the top. The fabric that covers the panels also allows for a smoother surface, creating the look of sophistication and elegance. Normally installed with a cord mechanism, roman shades are also practical additions to any room - users can easily pull the window treatments down for privacy or up to let some sunshine in.
At the same time, roman shades from Blinds Chalet only come from manufacturers who understand the importance of window treatments in the home. Created from quality products, these roman shades are sure to be durable but still affordable enough to fit your home makeover budget.
Optional Upgrades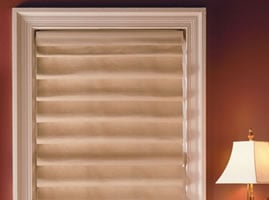 Hobbled Fold Roman Shades
Hobbled Fold/Tear Drop
The hobbled or tear drop fold roman shades offer additional material between each panel of the roman shades for a fuller, richer look.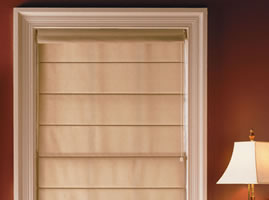 Flat Fold Roman Shades
Flat Fold
The flat fold roman shades offer a more contemporary look with the fabric pulled tight between each of the panels.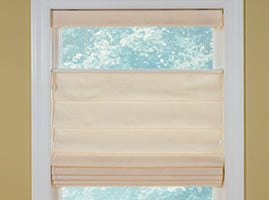 Top Down Bottom Up Roman Shades
Top Down Bottom Up/Duofold
The doufold or top down bottom up system allows the roman shades to be both raised from the bottom up as well as lowered from the top down. This upgrade allows sunlight in while not completetly blocking the view.
Things to Consider:
Because the shades are suspended when they are lowered from the top down the cords will be visible when the shade is in this position. Also there is a lift cord on each side of the roman shade. One to lower the shades and the other to raise it.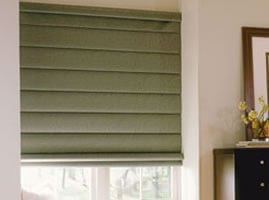 Cordless Lift Roman Shades
Cordless Lift
Cordless roman shades are designed so the shades may be raised and lowered without the use of a lift cord. Perfect when no visible cords are desired.
Things to Consider:
Reaching the roman shades to completely raise them may be dificult. With taller windows you will need to reach the top of the window because there are no cords.



Rollease/Continuous Cord
The rollease upgrade is designed for ease of operation on larger roman shades. Because larger shades can be heavy the continuous cord loop make is easier to raise and lower the shades.