* Production lead times are only an estimate and does not apply to any colors that are out of stock. Production begins the following business day after ordering. Please allow additional time for shipping.



Wood blinds bring the unique warmth and beauty of natural timber to your windows. Our wooden window blinds superbly complement almost any décor. Made from the finest real basswood, our wood blinds are all finished and tailored to perfection using only the best in components and craftsmanship.

These wood window blinds are expertly crafted with a precision finish to the smartest profile, while being engineered to function faultlessly. At Blinds Chalet we only offer the highest quality

wooden slat blinds

. Whether it's for business or for home your choice of

wooden window blinds

will look great!

For a less expensive alternative check out our

faux wood blinds

. Faux wood blinds are made from synthetic materials and designed to look like real wood at a lower price point.
Crown Valance
At Blinds Chalet we offer a free "Cornice Style" valance for most of our
real wood blinds
. This decorative valance is mounted to the wood slat blinds but extends past the window frame, adding a more elegant look to the blinds. All of our wood window shades conform to the CHILD SAFETY GUIDELINES. Order with confidence today!
Optional Upgrades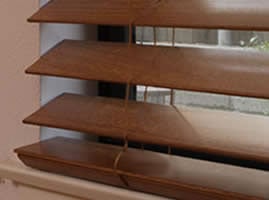 Routless Ladders - No Holes Privacy
Routless Ladders - No Holes Privacy
Routless ladders are designed so there are no holes in the center of each blind slat. This adds additional privacy and blocks more light than traditional wood blinds.
Things to Consider:
Because routless ladders do not have a routed hold and a cord running through each slat, the slats may be removed for cleaning. This also means the slats may shift and are not recommended for outside mounts or in areas reachable by children or pets.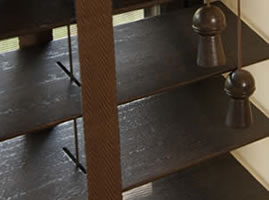 Decorative Fabric Tapes
Decorative Fabric Tapes
Decorative tapes add a fabric ladder that covers the routed holes in each blind slat. Not only do the fabric tapes add additional privacy and light blockage, they add color to accent any decor. Decorative tapes come in wide range of colors and styles.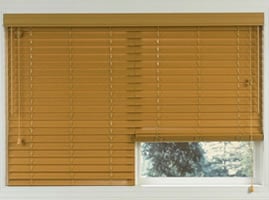 2 on 1 headrail
2 on 1 headrail / 3 on 1 headrail
Larger window blinds become heavy and harder to lift. By having multiple blinds sharing a common headrail, each blind will come with its own controls and will operate independantly from the other blind(s).
Things to consider:
Because there must be a slight gap between each blind, consider the light and privacy issues. Align the gaps between the blinds with the divider rails in the windows.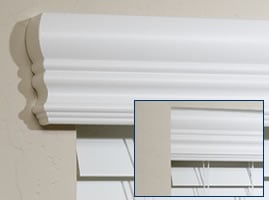 "Cornice Style" Valance vs Standard Crown Valance
Cornice Style Valance
Each of our real wood blinds standard with free valance. Most are crown molding although some are a different contour such as our signature wood blinds. We also offer on some of our wood blinds an optional "cornice style" valance. The cornice valance is a crown molding valance that sits outside the window frameon inside mount blinds. The cornice valance extends about 1 inch past on each side of the window frame. The cornice valance also has sides or returns to create a cornice look to the crown molding valance.
Things to consider:
Because the cornice style valance sits outside the window frame you need to consider any obstructions such as casing around the window or cabinets, etc. that might be in the way of the valance.
Crown Valance
5" Crown Valance Standard(on 2.5" blinds)
5" Crown Valance Upgrade Available
Mounting Hardware
Hidden Valance Clips
Cornice Style Valance
Specify Blind Controls and select location
Multiple Headrail Available
Routless Upgrade Available
Decorative Tapes Available
Trapezoid Bottom Rail
Highest Quality Components
Compare Our Wood Blinds
Not sure which wood blind is right for you? Use this simple comparison chart to view the differences between each of our wooden blinds. Each of our real wood blinds come with all the mounting hardware you need to install them with. Every product we sell is a custom wood blind made just for you.