Window treatments and shelving in bathrooms can mirror styles in other rooms
Nov 18 2011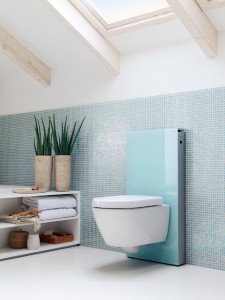 Open shelving works well for bathroom storage.
If there's no linen closet or medicine cabinet to store items in a bathroom, homeowners can do what they do in other rooms - install open shelving.
According to HGTV, open shelves can take the form of a marble shelf along the tub or a series of glass "floating" shelves can be installed in a vertical or horizontal configuration. Such choices provide added storage space for towels, as well as items such as candles and bath oils that are both functional and attractive.
For bathrooms where space isn't an issue, wall shelving can be attached to walls at both ends of a large tub or whirlpool, the website suggests. Or a free-standing, floor-to-ceiling unit with movable shelves can be brought into the space.
Homeowners can also take their cue from other rooms when it comes to bathroom
window treatments
. Blinds Chalet's
faux wood blinds
have the look of real wood, but are heat and moisture resistant, which allows them to be easily maintained in a bathroom. Selected faux wood blinds are currently available on sale, including an offer of one free set for each three sets purchased.
Bookmark/Share this page: