Blinds Chalet's Distressed wood blinds work well with any rustic decor
Oct 28 2011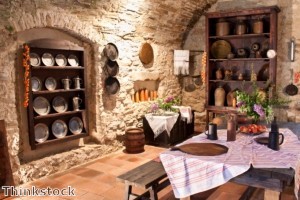 Distressed wood blinds are a good match for a rustic style home decor.
Distressed finishes are an important feature of rustic, country and cottage-style decorating schemes in which a mix of vintage and modern furnishings are coordinated.
Within Blinds Chalet's inventory, that vintage look is available in the Distressed 2-inch wood blind, in which nicks and scratches as well as color variations are part of the look of this window treatment.
"Each basswood slat has been distressed to offer an antiqued appearance to the
wood blinds
. These rustic basswood blinds are custom-crafted, durable and warp resistant," according to the company website.
For an authentic look, the distressed finish is continued on a matching wood valance and bottom rail as well as the mounting hardware. Every blind comes with a cord tilt control.
Wood tones offered in the distressed style include chestnut, oak and pecan. Decorative tapes are available in dark green, white, black, mulberry, blue and beige.
Because of the variated finish, Blinds Chalet recommends that consumers order a free sample for the best color match. Each sample is accompanied by a discount coupon that provides a 30 percent reduction off the regular price.
Bookmark/Share this page: