Horizontal fabric shades are a good complement to new room arrangement
Nov 3 2011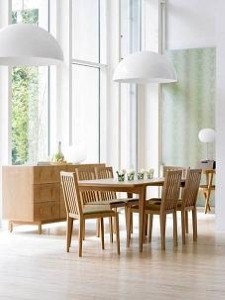 The way that furniture is arranged can affect how inviting the room atmosphere is.
Creating an atmosphere that is conducive to conversation and interaction can be as easy as trying a new furniture arrangement in a room.
Rather than relying on the traditional method of lining up furniture pieces against the walls, RealSimple magazine suggests that homeowners bring seating forward and gather major furnishings together.
"Spread-out seating makes the room cold," the website states. "Trying to gain open space by pushing furniture to the walls - where it collects clutter - kills the warmth of a room."
Instead, home decorators should create seating areas that have chairs, sofas and loveseats at close angles or across from each other. A neutral rug can be used to unify the room's different elements and activity areas.
The website also warns homeowners not to obscure the impact of windows in a room, or the light they bring into the house, by placing too many plants or furniture pieces in front of them. Blinds Chalet offers horizontal fabric shades in light-filtering weaves that can provide an ideal fit with any new décor that the homeowner plans. Special discounts on both solid colors and prints are currently available on selected horizontal fabric shades from Blinds Chalet.
Bookmark/Share this page: