Sloped roof of an A-frame home presents decorating challenges
Oct 10 2011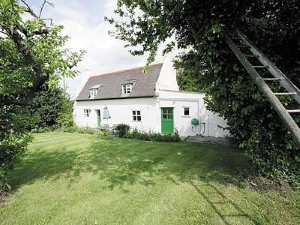 A-frame house interiors present some decorating challenges.
Furniture and accessories that are in English country, Arts and Crafts or rustic-style décor fit well with the architecture and mood of an A-frame dwelling.
But while the steep slope in an A-frame roof creates some interesting nooks on the interior, it also presents some decorating challenges. For instance, sloping walls aren't easy to decorate with hanging art work, but that creates an opportunity to make the windows the focus of a wall with treatments that fit the casual style of an A-frame.
According to RafterTales.com, A-frames became popular in the 1950s and continue to be a favorite architectural choice of people who like cottages and Cape Cod style homes. With the steep-pitched roof come deep eaves and gables on the exterior, and open floor plans, ceiling beams and sloping walls on the inside.
Most windows in A-frame construction are set in the front and back walls.
Honeycomb cellular shades
from Blinds Chalet are an attractive window covering that has the added advantage of energy savings. They trap air to conserve heat in winter and cool down hot rooms in summer. With ongoing sales and discount coupons, Blinds Chalet offers a cellular shade that's both stylish and affordable.
Bookmark/Share this page: