'S' curve line is among most unique vertical blinds from Blinds Chalet
Nov 10 2011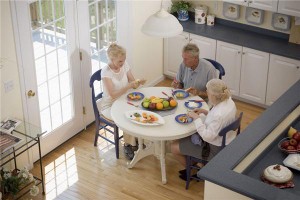 Vertical blinds are a good window covering for glass doors and large windows.
Some of the most unique
vertical blinds
offered by Blinds Chalet to homeowners are "S" curve style blinds that provide more privacy than most styles of this versatile window covering.
"'S' Curve vertical blinds offer a curved vane for tighter closure and added privacy," states the company's website. "Instead of traditional flat or 'C' shape curved vertical vane, the 'S' curve has a contour or curved vane."
Each "S" curved vertical blind comes with a matching dust cover valance, a self-aligning carrier to keep the vanes lined up properly and durable mechanisms for tight closing and durability.
The finish of this style is also unique – each color has a variated look in hues that include cloud white, desert beige, ivory, silver gray, sunset copper and white ice.
For large windows or glass sliding doors, vertical blinds are an attractive window treatment that manages light well and creates privacy as needed.
Blinds Chalet encourages consumers to send for a free sample in order to make a good match in color and finish. Each sample is accompanied by a discount coupon which adds to the affordability of this window treatment.
Bookmark/Share this page: