Bamboo ring draperies combine the looks of drapes and woven wood shades
Nov 4 2011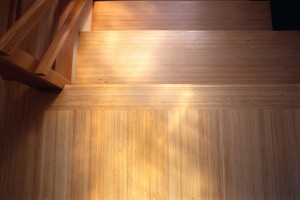 The beauty of bamboo is found in Tavarua Exotic Bamboo Ring Draperies.
For a window treatment that combines the sophistication of
custom drapery
with the natural look of
woven wood shades
, the Tavarua Exotic Bamboo Ring Draperies from Blinds Chalet will achieve both looks.
"Our Tavarua Exotic Bamboo Ring Draperies are made to match the patterns from our Exotic and Designer Tavarua Woven Wood Shades," states the company's website. "They are built with ring grommets to fit any
drapery
rod 1-1/2 inches in diameter or smaller."
The woven wood curtain comes as two panels for a center opening for a drape that is 48 inches or more. Those under 48 inches come as one panel.
To prevent the edges of the woven wood from being damaged, fabric edge binding borders all four sides of the drape. For a limited time, free edge binding is provided by Blinds Chalet. A large assortment of colors are available to coordinate with the homeowner's décor.
The number of grommet rings that are necessary for a drape are based on its width. "The fullness of the woven wood
curtains
will be between 30 percent and 50 percent to retain the folds when fully extended," Blinds Chalet advises. "When measuring for the height we recommend at 3/4 inch gap between the bottom of the bamboo curtains and the floor."
Bookmark/Share this page: