Single vs. Double Cell Cellular Shades
Jan 4 2010
What is a single cell honeycomb shade and what is a double cell
honeycomb shade
? Cell shades are designed to insulate from the heat, cold and noise. The fabric is designed in a "cell" or "honeycomb" pattern as visible from the side of the window shades. From the side of front of the shades they appear as a pleated shade with an accordion style look to them. The cells of the window shade trap air and provide insulation.
Single Cell Shades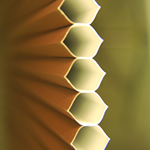 Single cell shades offer a single honeycomb design with cells stacked on top of one another. Single shades are cheaper than comparable double cell shades although some double cell shades may be cheaper when comparing different grade products.
Typically blackout shades are single cell and offer a mylar liner on the inside of the cells. This mylar backing prevent light from penetrating the
shades
as well as increases the insulation they provide.
Double Cell Shades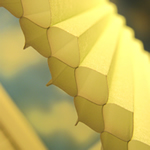 Double cell shades are designed with two cells intertwined. The purpose of a double cell shade is to provide added insulation to that of a single cell. One disadvantage to a double cell is that because there are additional cells within the fabric, the cost of manufacturing is increased due to labor and the additional fabric used.
Cell shades are excellent insulators. The more cells they have, typically the better job they do insulating. Double cell shades are better insulators than single cell shades but at a price. Typically double cell blinds and shades cost more than single cell shades. Determine what matters most when purchasing honeycomb shades. Do you want a shade that saves more energy or one that costs less but still helps on the energy bills.
Blinds Chalet also offers
ComforTrack SideTrack Cell Shades
and our Private label version called
EnergyTrack
. These cell shades add a side track on each side of the shades to provide an added layer of insulation by stopping the air that can pass between the shades and the window frame.
Related Products
Post a Comment