Top 10 Interior Design Blogs 2015
Oct 14 2015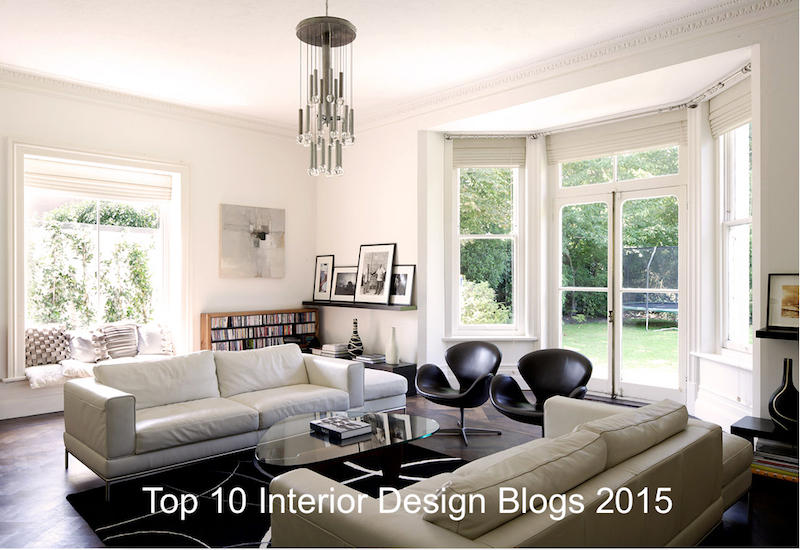 We came up with a top ten list several years ago and since then we have been coming across some incredibly unique and useful blogs that many people have probably never heard of. So, we decided to highlight our top ten for this year. Coming up with this list was not easy since many of us read several different blogs that we thoroughly enjoy, but unfortunately they did not make our top ten.
What was our Criteria?
Well, we wanted blogs that offered a fresh perspective. Blogs that showed before and after pictures and made us confident that we could take on the design challenges we were facing. We wanted blogs that offered a fresh voice and simple solutions. Many of us at Blinds Chalet feel that this list meets every single one of the criteria listed above.
How is the list formatted?
Okay, this is the tricky part. This post would be even longer if we went through and talked about the different posts that we favorited in Reeder (or whatever RSS feed all of us are using). So, what is best? Well, we decided to talk a little about the history of each blog, how they started it, and why did they start it. Then we threw in what we like and some recommendations of you may want to check out!
It is important to point out that not every blog on this list writes about window treatments and we think that is okay. Window treatments are an integral part to any home's design, but there are several other important design features. Features like lighting or flooring. Heck, we even highlight a blog that focuses on using plants in your home as a part of it's decor.
Anyway, enough formality. Below you will find our top ten list for 2015 of the best interior design blogs. They are listed in no particular order. We hope that you will find value in this list and visit them for yourselves! We enjoy what they offer.
1.
freshome.com
Originally, the blog of founder Micle-Mihai Cristian back in 2007, this blog has transformed into a hugely popular interior design magazine that also focuses on architecture. Freshome provides daily inspiration and advice to those who are seeking to improve, organize and style their homes. Their team is comprised of Mihai as CEO, Lavinia as Editor, Shelley as Editor, Tara as Editor, and Ada as Editor.
What we like:
The website is very clean and easy to navigate. They offer great renting guides for major metropolitan areas. They update several times a day and we always find at least one post that inspires us or teaches us something new.
What we recommend:
One of our favorite posts was written several years ago and it is about the
7 Most Important Interior Design Principles
. Read it! We also recommend the post on
contemporary wall displays
.
2.
happyinteriorblog.com
Happy Interior Blog was started back in 2011 by Igor Josifovic. His site focuses on interiors, travel and plants. His main mission was to bring more happiness to our homes and lives.
What we like:
This is an international blog so you will get a wonderful mix of styles and perspectives. He has a fantastic design sense, but also offers great traveling tips. Have you ever considered live plants as a decor item? This blog led us to find a space for plants in our homes and love it.
What we recommend:
A recent write up on
Spanish Design - Cosentino
, enjoy the photography on that post! We also recommend his other project known as
Urban Jungle Bloggers
. This particular site will inspire you to incorporate live plants into your home design.
3.
cococozy.com
Coco began blogging in 2008 and has been featured in Instyle magazine. She offers her own line of products on her blog. Her posts are a lot of fun to read and very informative. Her Youtube channel offers great walk-throughs of renovations that she is involved in. The goal she has for her blog is to provide design and style inspiration with a personal, and sometimes humorous, approach.
What we like:
This blog is entertaining to read and you learn a lot. She posts based on the room, such as kitchen or dining room. Her posts are detailed, well thought out, and offer great images that help explain what she is talking about.
What we recommend:
Two posts in particular. The first is
6 tips for family friendly home decor
. The second would be a post she did a while back on
well designed kitchens
.
4.
design-milk.com
Started by Jamie Derringer, this blog highlights several interesting categories. Our favorites happen to be home and interiors. The home section focuses on furnishings and highlights a lot of unique and interesting products for your home. The interior section focuses on interior design, this happens to be our favorite section.
What we like:
This blog highlights designers and architects from all over the world. Prepare to be globally inspired by people from all over. Some of the unique designs found in Europe are found here.
What we recommend:
They published a fabulous post earlier this year on
prefab homes
that is worth a read or at least just look at the pictures of some of the designs. Another great post is on a
condo in Kiev
that features a living wall in the bathroom.
5.
designsponge.com
Grace Bonney started Design Sponge back in 2004. Grace is a fantastic writer and has contributed to several magazines and news agencies. She is an author and also hosts a weekly radio show. Many of us at Blinds Chalet have been reading her blog for a long time.
What we like:
Our favorite part of her site is the before and after section. Here you can view detailed galleries with explanations of what changes were made. Several of us have completed some of the DIY projects that she lists on her site as well.
What we recommend:
We recommend her
101 guides
as a fun weekend project or something you do over a longer period of time. Definitely take a look after her
before and after section
.
6.
nicheinteriors.com
Niche Interiors is actually a full service interior design firm. We stumbled upon their blog when designing a space through the
houzz.com
app. Since then several of us have been regular readers. In fact, several of their design ideas were taken into consideration with a recent remodel.
What we like:
We like the detailed look they offer at projects they are currently involved in. We also like to browse through the different projects they have completed.
What we recommend:
The post on a
surprise makeover
is both inspiring and has a couple of great design ideas for kids rooms. Make sure to check out their post on
unique light fixtures
.
7.
stylesonashoestring.com
Stye On A Shoe String is also an interior design firm and we also found them on
houzz.com
. Started in 2002 by Tracy Lynn, this firm now houses five different interior designers. They haven't updated their blog in a little while but you can be inspired by there earlier posts.
What we like:
Their detailed focus by room with great examples through images and detailed write-ups. The site is easy to navigate and has a lot of great posts around interior design.
What we recommend:
Not too long ago, they had a great post on
design ideas for your baby's room
. Another great post on
avoiding design mistakes
highlights a time where her firm was called in to fix some issues from a remodel.
8.
theletteredcottage.net
This blog is special. Started by Layla Palmer and her husband, it is about their life and also interior design. She is the writer and her husband is the photographer. This blog is very real and inspiring. Make sure you read about their story.
What we like:
Not only is this a great blog for interior design, but Layla puts a lot of thought and emotion into very personal posts that offer insight into her thinking and passion. Her blog is incredibly unique and we have followed it for a long time.
What we recommend:
It is hard to only recommend two blog posts, but since we are focused on interior design we will highlight our two favorite ones. First is an old post about
adding character to your cottage
. Our second recommendation would have to be her
fireplace makeover
.
9.
adoreyourplace.com
A blog ran by Cathy Wolfram. She has been doing interior design work since college and has put together a wonderful site full of amazing design tips. She has a wonderful "get inspired" gallery along with a section on do it yourself projects.
What we like:
You can spend hours on her website just looking at the different galleries and DIY projects. She also has a "just ask" section where you can ask any design related questions and get help from her. You can also explore past questions.
What we recommend:
Check out her great
master bathroom post
as well as her post on
organizing your shoes
. Again, we recommend a detailed look at her extensive galleries.
10.
readingmytealeaves.com
Last, but not least, is Reading My Tea Leaves. Erin Boyle is both a writer and photographer and she does an amazing job at showing how to design a great space even if it is small. She is a wonderful writer and has also released a book.
What we like:
If you currently live in, or plan on living, in a small apartment, then this is the site for you. Erin spent a lot of time living in an apartment that was less than 200 square feet. Her blog is very unique and focuses a lot on small space design.
What we recommend:
The first thing we recommend is her series of posts on living in a
tiny apartment
. Our next recommendation is for those who have small children. Her series on
baby proofing
is also worth a read.
Well, that sums up our post of the best interior blogs of 2015. If you can think of any others that we should have put on this list, please let us know in the comments below.
Post a Comment