Best Window Treatments For Restaurants
Aug 7 2015
Are you planning on opening up a restaurant? Whether you are starting a restaurant or already own one, here's a secret that can increase traffic to your local business: 1) good food and 2) great ambiance. Without these two, your restaurant is not worth visiting.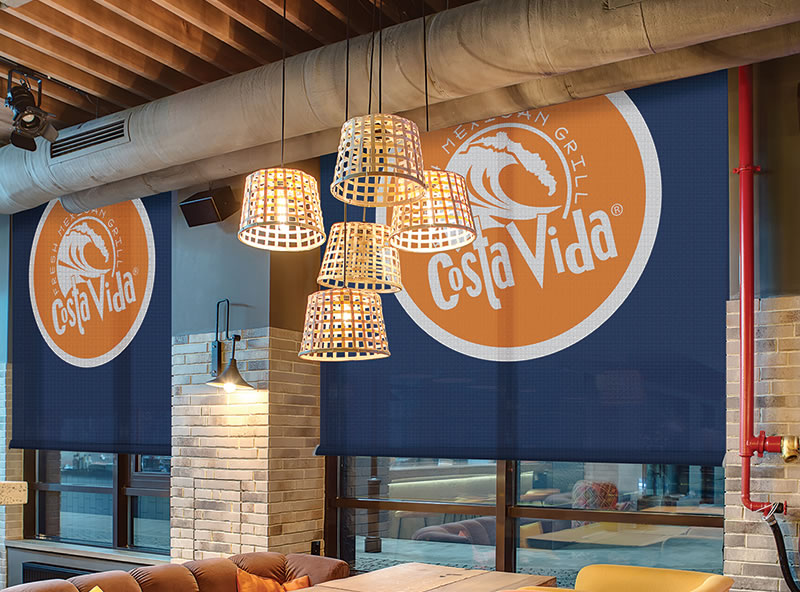 Let's just say, you have perfected the "great food" factor because you have hired the best chef and used the best ingredients. You then have to move on to perfecting the second factor which is "great ambiance". You can do this by:
Selecting a good location. When selecting your restaurant location, factor in its convenience, accessibility, parking area and last but not the least view.
Maintaining its cleanliness. Studies have shown that customers tend to stop visiting restaurants that were not neat and tidy because it affects their appetite.
Decorating it. Your restaurant must look good for your customers to feel good dining in there. Décor is not only limited to furniture, displays and utensils. It also involves fixtures like window treatments. Window treatments are great accessories for your restaurant windows as it provides comfort to your customers as well as maximizes your restaurant's view. As to what window treatment would be best for your restaurant read on.
Best Window Treatment for Your Restaurant
Solar shades are among the top restaurant window treatments this year. They are the better option to the bulky blinds and shades. What solar shades do is it blocks the sun's glare while maximizing your customer's view to the great outdoors. Here are the benefits of installing
roller shades
as window treatment for your restaurant:
Reduce glare. Having solar shades in your restaurant that can block the sun's heat and glare is important as it can improve your customer's comfort. Most customers choose tables next to the windows because of the view. But they want this area to be comfortable enough for them to stay there without having to suffer squinting for minutes to hours because of the sun's glaring rays. You can achieve that with the solar shades.
Preserve your restaurant's view. Window treatments like solar shades are best for restaurants as it preserves a translucent view to the outside even when they are blocking the sun's rays. Moreover, solar shades easily retract to allow better view through the window while allowing more light to come in.
Protect your interiors. The UV rays of the sun are very damaging if left unblocked. It can damage your restaurant's furniture and other interior decors. That can become a costly expense unless you do something about it. That's why installing solar shades as window treatments to your restaurant is highly recommended.
Custom graphics can be used. Custom graphics are simple to order on solar shades. Custom graphics printing allows you to put your logo or other restaurant information on the shade. See the two pictures below for examples. To order custom graphic shades simply call us and speak with one of our representatives and they will walk you through the process. 1-888-633-7840. You can learn more about these custom graphic shades here.
Where To Buy Window Treatments For Restaurants?
Now that you know the benefits of solar shades, I bet you are wondering where you can purchase one for your business. Good thing Blinds Chalet offers solar shades and other window treatments for restaurants.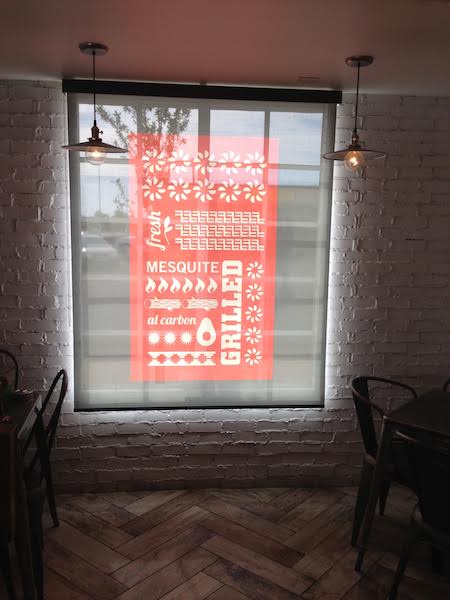 Blinds Chalet is not limited to providing quality window treatments to houses. They also cater other areas like restaurants. What separates Blinds Chalet from other window treatment providers is that they provide window coverings specific to the needs of your restaurant. Whatever window treatment you desire for your restaurant, Blinds Chalet has it. Whether you are looking for child-safe, eco-friendly, energy-efficient or affordable window treatments for your restaurants, Blinds Chalet can get it for you.
If you own a restaurant or you know someone who does and might need some window treatments, visit
Blinds Chalet
or contact them at (888) 633-7840 during regular business hours (M-F 6am to 5pm, Sat 6am to 2pm PST) to learn more about their products.
Related Products
Post a Comment