Window Treatments For Condominiums
Aug 7 2015
You have recently moved to your new condo and are too excited to design its interior. Before going all the way to decorating your condo, make sure to check with your condo association's rules to know what are the dos and don'ts.
One common rule across all condominiums is that window coverings of each unit must look uniform from the outside. Simply stated, this means: to present uniform face of windows from the outside of condominiums, color palettes of blinds, draperies, shades and shutters must be limited to neutral shades like white, off-white, light beige and gray.
This maintains the coordinated architectural style of the whole building despite the different styles and tastes condo users prefer.
While it may be challenging to work with this rule, your options are still limitless.
Roman Shades
What's great about roman shades is that it offers you two colors in one shade. Abiding by the condominium restrictions, you can have this window treatment with a neutral color on its outside face while a bolder and brighter color on its inside face.
Roman shades create a timeless romantic look to your condominium windows. They can softly filter bright sun rays allowing only ambient light to enter your condo while you enjoy total privacy.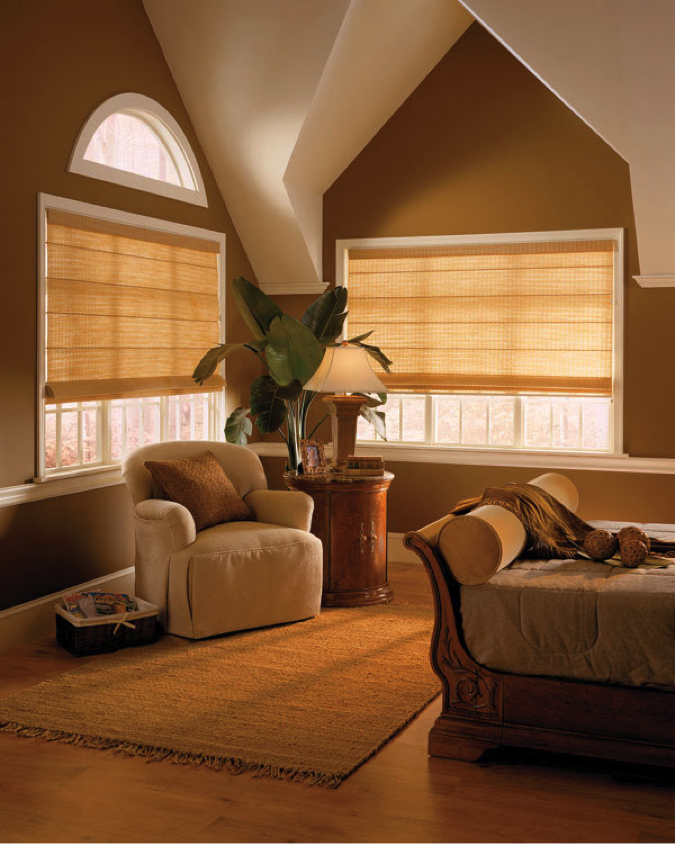 Roman shades
are usually made of fabric. But there are those made of wood, bamboo and other natural materials. This only means that you can really find a roman shade window treatment that would be perfect for your interior design theme of choice.
Drapes
Although drapes don't have the same design as roman shades (one color to face the outside and another to face the inside), you can still choose bold colored drapes for your condo. This is because there's an easy fix that can help you meet the condominium rules: install a double curtain rod that holds two sets of curtains. On the rod closest to your condominium windows, attach neutral sheers of cloth. Then hang your bright colored drapes on the inside rod.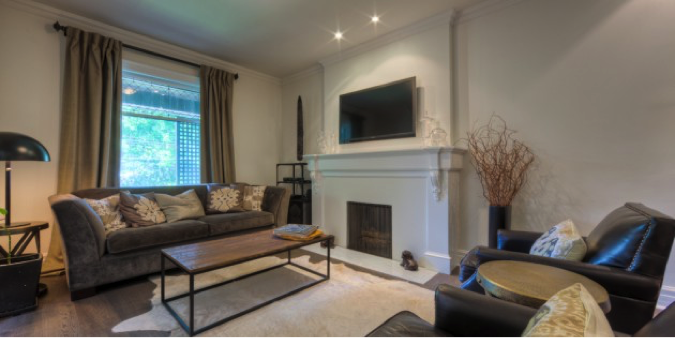 photo
via
Like roman shades, drapes are not only manufactured in fabric materials but also wood woven supplies. They are perfect for those rooting for an oriental condominium look.
The advantages of using drapes as window treatments for your condominium are: they are relatively inexpensive; they are light and airy making the room appear more spacious; and they can be hung from wall-mounted or ceiling-mounted rods.
Blinds Chalet Offers Window Treatments for Condominiums
For your condo window treatment needs, Blind Chalet should be your go-to of choice. Blinds Chalet provides a complete collection of window treatment products and services for condominiums. They have ready-made drapes and roman shades as well as custom window coverings for condominiums.
Blinds Chalet offers these window treatments in a wide array of fabric color choices. Plus, these window coverings are made with the top quality materials so they are built to last.
Blinds Chalet provides an option for nearly every purpose, decorating style, and budget. They also ensure prompt service to their customers. They sell online to the whole nation, except for Hawaii and Alaska. For more information, visit
Blinds Chalet
or contact them at (888) 633-7840 during regular business hours (M-F 6am to 5pm, Sat 6am to 2pm PST) to learn more about their products.
Related Products
Post a Comment