Aluminum mini blinds for that industrial look
Jul 20 2011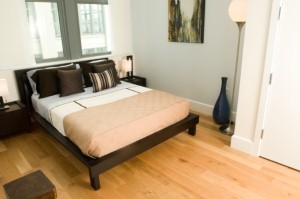 Aluminum mini blinds can look sophisticated in a contemporary bedroom.
Different people have different ideas of what looks good. From the traditionalists who opt for old-world furniture to contemporary fans who like the sleek finishes, there's an aesthetic for every taste. If you prefer a more modern design for your home, why not opt for
aluminum mini blinds
for that cool industrial look?
Steel accents in the home are often seen as a part of the contemporary approach to design. Whether it's a sleek bathroom fixture in chrome or stainless steel table lamps, adding this element creates a cool visual appeal that's a fine addition to a room with clean lines and minimalist furnishings. In the bedroom, installing a set of aluminum mini blinds creates a statement that emits a masculine but sophisticated touch.
Additionally,
mini blinds
are functional
window treatments
that are a great way to gain privacy. With state-of-the-art headrail mechanisms and durable slants, the blinds can be easily rolled up to let natural illumination shine in - or down, on the other hand, for a good night's sleep.
Bookmark/Share this page: