Mission-style furniture has a natural complement in bamboo shades
Sep 16 2011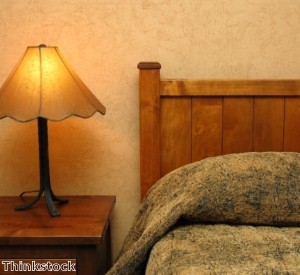 The simple lines of Mission wood furniture is often accompanied by auburn glass lamps.
Mission-style furniture, which has roots in the early 1900s, is as popular today as it was then for its clean geometric lines and rich-looking wood grain oak.
Dens, home offices and living rooms all lend themselves to the classic look of Mission furniture, which was originally conceived to outfit bungalows and craftsman-style architecture.
The Mission style of today continues the use of dark oak furniture offset by lamps with auburn stain glass and metal shades in geometric patterns, small tables and magazine racks, according to IdeasForHomeDecorating.com.
"It's a way of decorating your home which is simple and informal, making use of basic furnishings, yet giving a relaxed and inviting atmosphere," the website states.
Bamboo shades
from Blinds Chalet are in keeping with the natural look of Mission-style furnishings. Bamboo has unique variations in color and texture that also adds a tactile quality to the window treatment.
Area rugs in nature colors are a good choice to offset wood flooring in a Mission-style room. They can be coordinated with upholstery in deep greens, reds and all shades of brown that complement the look.
Bookmark/Share this page: