3 Colors to Paint Your Bathroom and What They Mean
Apr 14 2012
When remodeling a room, it is important to carefully consider the color that you want the room to be. Many people will not repaint a room for many years to come, in particular the bathroom, so it is crucial that you pick a color that you are comfortable with and will enjoy for many years to come. Each color has its own special meaning and can unknowingly produce certain emotions in visitors to the room. Bathrooms are no different. A careful color selection that matches the meaning and feeling you want to convey, the proportion of the room and your decorating style can ensure that you wind up with a color that you will love for years to come. Here are three options that are worth considering.
Aqua
Aqua is a color that can range between a soft blue and a soft green. Aqua blue symbolizes youth, hope and health. It is also a soothing color that helps a person release his negativity and anger. It is also associated with high ideals. Blue is a good color to use for its relaxing effect on people. When you are soaking in the tub, you will enjoy the soothing environment around you. A cool color can also help make a small bathroom seem larger.
However, the color is not so tame that it will be boring. It will add a nice sheen to the walls while providing a soothing feeling of inner peace. It is also a good choice for its proximity to the color of the ocean, which makes people think about putting their feet up at the beach or gently riding the calm ocean waves.
Brick Red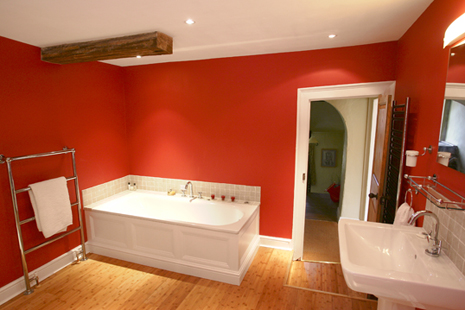 Red is a bold color that emotes a strong response in most people. It is the color associated with love, but also with pain and anger. Using a brick red color helps to decrease some of the extreme feelings that red causes by toning down the color. At the same time, the brick red color will increase enthusiasm, energy and confidence. This will provide you with some motivation after you wake up in the morning, have a shower and head off to work with a confident attitude. Painting a small bathroom in a brick red color will add character and charm to the space. It makes a spacious bathroom feel more intimate. It will also come as an unexpected surprise to your house guests and demonstrate your confident and energetic personality.
Peach
Peach is a color that is reminiscent of good health. It brings feelings of courage and the quality of being more charming. It also represents innocent love and future wisdom. Peach is a good color to use in a bathroom because it is flattering to many individuals' complexions. Believe it or not, It can help to minimize the appearance of wrinkles to make the person look younger. Since it is a light color, it will make a room feel larger than it is. It is one of the more common bathroom colors and for good reason - It will inspire confidence in the people who live in the house as well as in visitors.
Color meanings need to be assessed before making a commitment to a paint color anywhere in the house. Aqua will provide a soothing feeling, red will increase confidence and peach will flatter people with a variety of skin tones. For the bathroom, all three colors are an excellent choice, but in the end it comes down to choosing the color that best corresponds with look and feelings you want to create.
Author Bio
Tanya is an expert in interior design and has been helping her clients create their dream homes for more than 10 years. She always says that choosing the right
enamel paint
is critical to achieving your desired outcome. When she isn't making dreams come true, Tanya is kept busy looking after her two young daughters and enjoys going to the beach and horse riding.
Want to participate in the Blinds Chalet community?
View details
Post a Comment