Questions to Ask When Adding Central Air to an Old Home
Apr 6 2012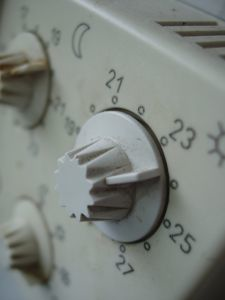 If you own a home that was built before nearly every house was outfitted with central air conditioning, you may be considering retrofitting your house for an AC system. There are several ways to bring the comforts of central air to an older home. When considering this, there are a few questions that can help you to decide which route to go. Gathering the answers to these questions is a good first step in the process.
1. Does Your Home Have Central Heating?
This is important because a house with a central heating system probably already has the ductwork in place to accommodate a central air conditioning system as well. Since installing ductwork to a home built without it is extremely costly and time consuming, adding central air to a house that already has a forced air central heating system can save thousands of dollars compared to older homes with radiator or baseboard heating systems.
If your home does have ductwork in place, it doesn't mean that other methods won't be easier and less expensive. You may still end up choosing a modern high velocity system. But, if you already have ductwork, it's probably worth a consultation with an expert to look at your home's specific situation.
2. If I Don't Already Have Ductwork in Place, Does a High Velocity System Make Sense?
Retrofitting an older home with modern ductwork can be a daunting task for a couple of reasons. First, it's a costly procedure to have done to your home, so this can be one of the more expensive options. Also, it often requires cosmetic changes to the interior of a home. To accommodate ductwork, you may have to do things like lower ceilings and rip out plaster walls. In beautiful old homes, adding ductwork isn't usually desirable if it will impact the home's interior aesthetics.
The alternative is a high velocity air conditioning system. A high velocity AC system uses small-insulated tubes in place of ductwork to deliver cooled air throughout a home and can typically be run through walls and ceilings with a minimal amount of physical alterations.
3. Do I Really Need a Full-Blown Central Air System?
It's possible to achieve many of the benefits of full central air by installing a mini-split system. Mini-split systems are ductless units that can be installed in a wall. They are made up of two parts: a condenser that is actually outside the house, and an indoor unit that acts as an air handler.
Mini-split systems are ductless and eliminate almost all of the installation headaches associated with any of the full central air systems and are much less expensive to put in place. The downsides are that the system will usually only cool a portion of the house, not all of it. Also, per-unit operating costs of a mini split system can be more expensive than central air systems. Still, if you have a need to cool only a few rooms, a mini-split system may be the best option.
4. What Size Unit Do I Need?
Regardless of what specific approach you choose to address your cooling needs, it's always important to select a unit that is appropriately tailored to your home in terms of overall size and layout. Bigger is not always better. A larger unit than you really need won't cool the house evenly. Also, the larger the unit, the larger the cost of operating the unit will be. So it makes more sense to buy a unit that's appropriate for the size of your house.
A little research can help you to determine which size will work the best for your home.
Author Information:
Jim Klossner contributes writing for John J Cahill, Inc., an
Evanston plumbing company
that also does HVAC work. He deeply appreciates staying cool inside his older home and also enjoys photography.
Want to participate in the Blinds Chalet community?
View details
Traci Greene Farmer
May 3 2012
I am working with a friend on fixing up an older home that already has central heat. Is it possible to add an air conditioning system to this house? The central heating runs on natural gas. The duct work is already present. We were wondering if this is something that could be cheaply done with a used system? Does the natural gas hinder this in anyway?
Post a Comment