Retro Vinyl Roller Shades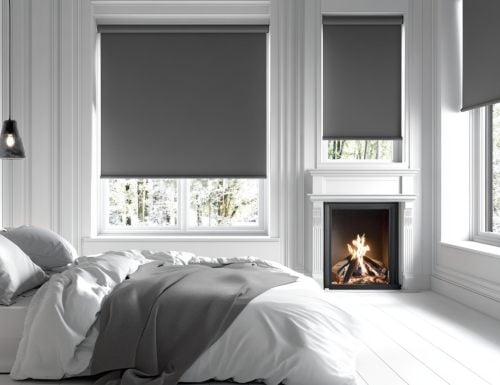 Bookmark/Share this product:
Each Retro Vinyl Roller Shade is made from durable 4-ply vinyl fiberglass material. Our retro roller shades offer a modern contemporary look to any decor. Ideal for rooms in which you want easy functionality and impressive design.

The street side of the roller shades come with a white vinyl backing except for the color Eggshell, which is same color on both sides.

Standard lift control is a continuous cord or upgrade to a cordless spring lift for child and pet safety. Each comes standard with a spring loaded lift mechanism when you buy your Retro Vinyl Roller Shades online.

* Production lead times are only an estimate and does not apply to any colors that are out of stock. Please allow additional time for shipping.
Instant Savings! Dont forget to enter coupon at checkout for the 40% Off Savings !






Due to the color variation between monitors we recommend ordering samples before placing your order if color is important.

This is a forum to ask product related questions that will be answered by our design consultants. If you have a question regarding an order or a customer service issue, please call us at (888) 633-7840 or use our
contact form
.
Approved questions and answers may take several days to appear on site but you will receive a quick response to your question.
Q:
can these be ceiling mounted? I need to cover sliding doors.
Asked on Sep 1 2013 by mike
A:
Yes, they can be ceiling mounted. Please see the below link for installation instructions:
http://www.blindschalet.com/pdfs/Installation/roller-shades/29-roller-shades-install.pdf
Q:
Looking at the retro vinyl roller shades it looks like there isn't a valance. Is that right? Does it roll backwards? What is the warranty on the shades? Are they blackout?
Asked on May 1 2013 by Risa markovitz
A:
The retro vinyl roller shade does not come with a valance. For an upgrade charge, you are able to add a cassette head rail valance.
You can get a standard roll or a reverse roll. A standard roll will roll towards the window and a reverse roll will roll towards the room.
The warranty is limited lifetime, as long as you own the blinds. This will protect you against any manufacturers defects, but not normal wear and tear.
They are blackout. But remember on roller shades, the fabric will be 1 1/2" smaller than the roll. Please keep that in mind when you order.
Q:
Are the Retro Vinyl Roller Shades room darkening?
Asked on Apr 11 2013 by Janice
A:
They are a room darkening roller shade.
Write a Review

Very pleased overall.
Feb 13 2014
Measuring:
I measured my own blinds!
Installation:
I installed my own blinds!
Very pleased overall. Product is good quality and attractive. However, these shades were for a shorter window (24" tall) and the chain operator is a little awkward with the 'snap link' passing through the jamb keeper. Taller shades would not be an issue.
The chain is kind of cheesy plastic and the knot in it limits how far up or down you can go, so a bit more length would be nice.
Dec 2 2013
Measuring:
I measured my own blinds!
Installation:
I installed my own blinds!
The chain is kind of cheesy plastic and the knot in it limits how far up or down you can go, so a bit more length would be nice. The distance away from the glass is too much, permitting light to go around the blind. I love the color and thickness.

Cassette Headrail
The cassette headrail comes with a matching fabric strip.
The shade is raised and lowered by a cord
The cassette headrail has an integrated reverse roll stop.
Price is based on the width of the shades
Headrail Measurement:
Inside mount, ordered width minus 3/8"
Outside mount, ordered width plus 3/16"
Fabric Measurement
Inside mount, ordered width minus 1 1/8"
Outside mount, ordered width minus 3/4"

Cordless Lift
Raise and lower your blinds without cords. This upgrade is great for homes with children because there are no dangerous lift cords. Not recommended for sizes wider than 96 inches.
Shipping
Each of our blinds and shades are custom made to your specifications. You can expect them to arrive approximately 2 to 2 1/2 weeks after ordering. Standard shipping is UPS or FedEx ground.
Product Specifications
Width:
14" - 103"
Height:
12" - 120"
Free Features

Lift Cord
The lift cord is used to raise and lower the blinds. This option allows you to select the position of the cord on the blinds.

Roll Position
The side in which the fabric comes of the roll and whether the roll is visible. With the standard roll, the fabric comes down behind the roll next to the wall and the roll is visible inside the house. This option keeps the fabric tight to the wall on an outside mount. Reverse roll brings the fabric down in front of the roll and hides the roll from the house side of the roller shade.
Need Help Finding Something?
At Blinds Chalet we can special order just about any window covering even if it's not on our website.

Call us at (888) 633-7840
or