Bold colors emerge for homeowners who want to decorate outside the box
Sep 23 2011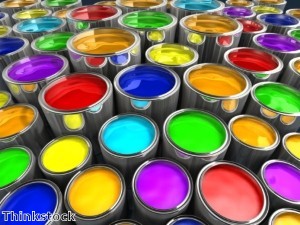 Consumers are becoming less wary of trying bold colors in their home decor.
Gone are the days when homeowners refused to paint their walls in bold colors. While they may not choose to saturate their rooms in bright hues, there are plenty of accent colors that are being tried along with traditional neutrals.
Interior designer Sonu Mathew gives credit to the peacock blue walls of Carrie Bradshaw's apartment in the "Sex and the City" movie for starting people re-thinking their color schemes.
"It got people excited about color, and that's what color is meant to do," Sonu Mathew, senior interior designer for Benjamin Moore, told the Los Angeles Daily News.
This fall, Mathew is betting on a color called "vintage wine" - deep purple with undertones of dark brown – to inspire customers to decorate outside the box.
Or, according to other paint experts, they may go with a range of deep reds, bright orange, periwinkle and violet blues or a variety of rosy pinks.
Mathew told the Daily News that yellow is emerging as well as a complement to green, gold and camel.
Others are touting a range of pinks, including salmon, red violet and dusty rose, to offset gray, a new popular neutral. Rose is a favorite with Sarah Cole, marketing director at Farrow & Ball.
"Its warm tone helps to create a casual, relaxed feeling in any room," she said. "It can also be uplifting and good for use in rooms with lots of natural light."
At Sherwin-Williams, a variety of reds are emerging as favorites. "Reds are starting to trend again really heavily, and not just that stop-sign red that we're accustomed to, but a collection of reds," according to Jackie Jordan, the company's director of color marketing.
Window treatments
are another way to incorporate new hues into a room, and the variety of colors, materials and finishes in the blinds, shades and
custom drapery
offered by Blinds Chalet can complement any choice of color schemes. Ongoing sales and special discount coupons provided to consumers also keep the selections affordable.
For those who are stepping gingerly around using bold tones, the experts suggest trying them in unexpected places - the inside of a bookcase or on the rear wall of glass-door kitchen cabinets.
Orange is one of the trend setters that could be used this way. "It's a versatile color, with powerful, warm undertones and works wonderfully as an accent color in an interior scheme," said Cole.
Bookmark/Share this page: