Tried-and-true tips create new looks without a complete room overhaul
Nov 22 2011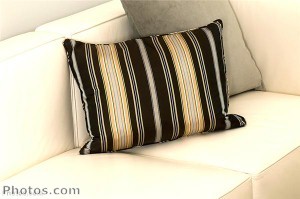 Cushions in neutral, but interesting patterns can revive the look of upholstered furniture.
Rather than coming up with a whole new design scheme, home decorators can save time and effort by "deconstructing" their existing color palette.
For instance, if blue doesn't work any longer as the main wall color, it can become the accent hue instead. Flipping main and secondary colors in a room allows homeowners to retain major furnishings that go with them, according to Philadelphia designer Donna Hoffman.
Once a new accent color is chosen, it's time to neutralize the room by taking out other strong colors that will compete with it.
"This includes removing area rugs, throw pillows, accessories, dated wallpapers - anything that sings too loudly in the old color palette," Hoffman told The Herald in Rock Hill, South Carolina. "Keep only the 'new' accent color, letting everything else go neutral. By project's end, you'll be left with an accent color that gorgeously pops amidst a new palette of neutrals."
The decorator has some tried-and-true methods that she relies on that quickly change the look of a room to keep it fresh and appealing without going to the expense of a complete overhaul. In Hoffman's opinion, an inexpensive way to reinvigorate older upholstered furniture is to use a variety of neutral colored accent pillows in different shapes and sizes.
When
window treatments
begin to look outdated, she suggests homeowners replace them with another style in the best quality that they can afford. At Blinds Chalet, high quality
window shades
, blinds and custom draperies are sold at prices to fit any budget. "Custom draperies give tremendous aesthetic return on the dollar," said the designer.
Making a window a focal point in a room is easy considering the number of treatments available. From the classic look of
roman shades
– in both flat, contemporary folds or traditional "tear drop" fullness - to stylish
solar screen shades
in a variety of weaves and patterns, homeowners have a wide range to consider.
Finally, when deciding how to update a room in which a sofa is a major component, Hoffman advises toning down a brightly patterned or colored sofa with neutral pillows. But she cautions that's it is difficult to camouflage worn-out upholstery or an outdated couch silhouette. When it's necessary to buy a new sofa, select solid colors in a classic style.
"These have the staying power of a little black dress," Hoffman said.
Bookmark/Share this page: