A mix of rustic and elegant textures are prevalent in farmhouse and cottage looks
Nov 22 2011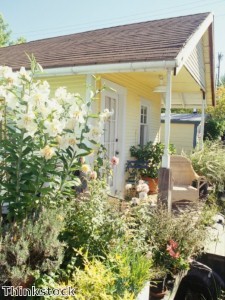 Muted colors and natural materials are features of cottage and farmhouse decorating styles.
Large, sprawling farmhouse or cozy, quaint cottage - the decorating style of both rests on light dusty colors, natural wood tones and soft textures that coordinate well with vintage accessories.
For homeowners who want to bring a farmhouse or cottage look to their homes, Better Homes and Gardens magazine recommends they start with choosing a wall color that will coordinate the combination of rustic and elegant textures that are a hallmark of the style. Once they have settled on a muted palette, homeowners can choose area rugs that warm up wood flooring. Even bathrooms decorated this way benefit from a soft rug underfoot.
Window coverings
for a farmhouse look can range widely. Soft
sheer shades
bring in a flow of natural light and fit both traditional or contemporary country-style decorating. Made from sturdy fabric, the selections at Blinds Chalet have a sophisticated look that belies its durability. With ongoing sales and discount coupons, they are an affordable choice as well.
The magazine states that furnishings in farmhouse rooms work best when they are an eclectic mix of styles. Fancy chairs with decorative curves are a good contrast to the more austere lines of a farm table. For accessories, attractive pieces that have some function fit the atmosphere of a farmhouse or cottage.
"Bowls and platters [can be placed] on open shelves above kitchen countertops where they can be appreciated as well as used," Better Homes and Gardens suggests.
That worked for a New Hampshire family who decided to decorate their kitchen in classic farmhouse style without giving up the benefits of today's conveninces. According to HGTV, they began with a design that was easy to maintain and a comfortable place to cook. With white, cottage-style cabinetry and a selection of collectibles for accent, they were able to combine the home's contemporary needs with traditional décor.
"The clean white styling and rich antique furnishings and collections combined for a clean country look," states the website. "Many of the accessories are functional and used for storing food and kitchen tools."
For instance, instead of a kitchen island, an English pine farm table was placed in the center of the room with a matching chest underneath. It provided storage for utensils but also a display surface for attractive mixing bowls and a tureen. In the adjacent dining room, French linens covered the table with antique silver candleholders as a centerpiece in contrast to simple, yellow painted chairs.
Bookmark/Share this page: