Designer solar screen shades work well in both business and residential settings
Nov 21 2011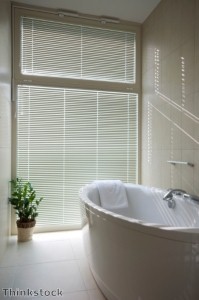 The weave of a solar screen shade detemines how much light is allowed inside.
Designer
solar screen shades
by Blinds Chalet give consumers a choice in weave, pattern and color to find the best match for their home décor.
The weave openness factor varies from 5 to 10 percent to filter natural light while providing a clear view of the outdoors.
"They are perfect for business as well as residential applications providing protection against fading, minimizing worker fatigue and eyestrain," states the company's website. "Solar screen shades are excellent energy efficient shades while not blocking the view. The smaller the openness factor, the tighter the weave and the more light the shades block."
The Designer line is a GreenGuard indoor air quality certification for low emissions. The energy savings offered by solar screen shades are significant because they improve both temperature and draft control in the home. But the company points out that consumers who require total privacy should note that solar screen shades are not intended to be privacy coverings.
There are several color variations available in bronze, white and charcoal. Blinds Chalet recommends that homeowners order a free sample to get the best color match. Discount coupons accompany each request for a sample.
Bookmark/Share this page: