Holiday guest quarters should include a place to relax and read
Nov 18 2011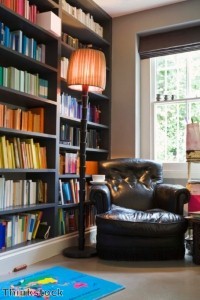 Finding a quiet corner for reading and relaxing adds to a guest's comfort during a holiday visit.
With the onset of the busy holiday season, homeowners often have to arrange guest quarters they hope will make their visitors comfortable.
Setting up a corner where they can store their belongings can include a small table to use as a nightstand and a comfortable chair where they can relax and read. Easy-to-store feather beds can be folded up when not in use during the visit, according to RealSimple.com.
If the visitor's reading chair is near a window, it helps to have a window treatment that can be adjusted to manage natural light and provide privacy as needed. Some affordable choices from Blinds Chalet are
roller shades
and
mini blinds
, which both come in a large variety of colors and finishes to suit any décor.
Those selections include woven wood roller shades that are currently available at a special discount. In addition, consumers can request a free sample of any shade or blind and receive a discount coupon with each sample.
Making guests comfortable in their reading area should include a selection of reading material, from a book of word puzzles to a collection of short stories.
Bookmark/Share this page: