Bamboo woven wood shades make a transition between interior and outdoors
Nov 16 2011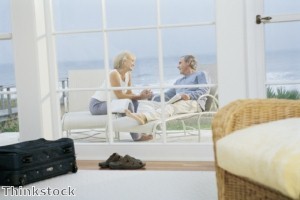 Outdoor spaces can reflect home's interior design choices.
As with any makeover, redoing an outdoor area should be done with solid planning to determine which plants or existing furniture can be reused before new landscaping is introduced.
In addition, making a transition from a home's interior to an outdoor deck or patio is done more easily by choosing
window treatments
that complement both the inside and outside spaces.
An ideal choice can be bamboo
woven wood shades
from the wide selection of window treatments offered by Blinds Chalet. To coordinate with the natural, variated look of bamboo, edge binding is available in a range of colors and is currently being offered free as part of a special sale by Blinds Chalet.
Another way to accentuate an outside space in line with the interior decorating scheme is to make sure the proportion of the garden or deck furniture is in line with the home's size, according to the New Zealand Herald.
The newspaper advises that homeowners should feel they are entering an extension of the home when they step into the outdoor space. This can be accomplished by decorating outdoors with similar fabrics, colors and decorating styles of adjacent rooms.
Bookmark/Share this page: