Decorating products need to stand up to use in a bathroom update
Nov 16 2011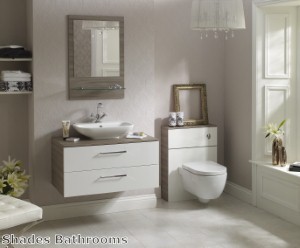 New paint products are able to stand up to the heat and moisture found in bathrooms.
When homeowners decide to re-do their bathrooms, they need products that will withstand moisture, heat and constant use.
Painting the vanity should include a high-adhesion primer, followed by semi-gloss latex paint and finished with a non-yellowing, water-based polyurethane, according to HGTV.
Once the paint dries, an easy change in the vanity hardware - or on other bathroom cabinetry - can alter the look from contemporary to traditional, or vice versa. Knobs and drawer pulls come in a variety of finishes, such as metal, ceramic, glass or wood that can be stained or painted to match the cabinets.
The
window shades
and blinds sold by Blinds Chalet will give homeowners a wide selection of treatments that are attractive in bathrooms and will wear well in moisture.
Faux wood blinds
, for instance, provide the rich look of real wood, but the easy maintenance, resistance to humidity and durability needed in a bathroom. They come in many colors, finishes and materials to fit any bathroom décor. Currently, selected faux wood blinds within the Blinds Chalet collection are included in a sale that provides one free set for every three sets purchased.
Bookmark/Share this page: