Adding several conversation niches softens the look of a formal space
Nov 15 2011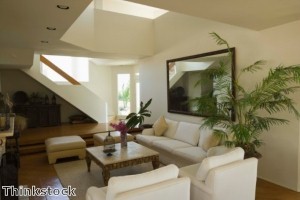 Creating comfortable conversation areas in a living room warms up the space.
The living room is a space where visitors are likely to be entertained, and a room that many homeowners view as the showpiece of the home. But there's no reason that it can't be comfortable for everyday use as well as for special gatherings.
"When you decorate with formal living room furniture you need to find a balance so the room doesn't seem too stuffy," according to InfoBarrel.com. "You can give a more casual feeling to the room just by choosing a wall color that coordinates with your furniture … [and] will balance the elegant touches of your furniture."
If a formal style is what works best for the space, the decorating scheme for the main area of the room should be symmetrical. Adding several conversation niches will provide balance to prevent the room from looking cold or overwhelming. In front of a living room window or in a corner of the room, a small conversation area can be arranged with two chairs and a small table between them, the website advised.
A fireplace in the room can serve as a focal point with an equally weighty piece of furniture - such as a large bookcase or hutch – to counteract it across the room. Having two loveseats face each other in front of the fireplace is often more inviting than placing one long sofa along a wall.
Window treatments
play a big role in setting the tone of a room.
Woven wood shades
often are used in more informal parts of the house, but bamboo woven wood sliding panels from Blinds Chalet combine the best of
custom drapery
with a natural wood look. They be hung without a lining for filtered light or have a blackout fabric added for privacy and light control. A matching valance and edge binding give the treatment a finish that fits a living room.
InfoBarrel.com also recommends using furniture already in the home, but upgrading some pieces with new upholstery or pillows and throws. Slipcovers for certain furnishings can be changed seasonally. The fabrics on a sofa and a loveseat can be different, but coordinated with each other.
A living room can become an elegant space by the simple addition of special details – curved arms and backs on seating, metallic accents or a glass-topped coffee table. "Elegant living room furniture is all about the details," the website states. "You should find furniture that have something a little special to it."
Bookmark/Share this page: