Cellular shades are among those that offer a choice of blackout fabric
Nov 14 2011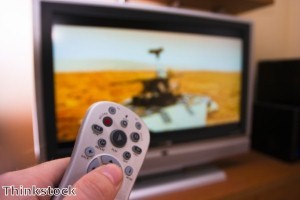 Cellular shades can be made with room darkening fabric for a home media room.
The choice of lighting can determine how well visibility will be in a home theater and the right window treatment can help homeowners create the most conducive atmosphere for their screenings.
A variety of lighting sources can be chosen according to the style of décor in the room. Sconces, floor lamps and recessed lighting are among the selections that homeowners can choose to create the right ambience without casting a glare on the home screen, according to DIYHomeTheaterDesign.com.
A wide range of
window coverings
are available to block light so that it doesn't interfere with viewing. Energy-saving
cellular shades
are among those that have a choice of blackout or room darkening fabric. Blinds Chalet's cordless Premier line is a blackout single cell shade that currently has a special deal available - for every three sets purchased, a consumer will get a free set of the shades.
Once the considerations of lighting are solved, homeowners can outfit their screening areas with seating arrangements and side tables for setting down refreshments that will offer them the best view in their choice of entertainment.
Bookmark/Share this page: