Designer stresses individuality as an important element in home decor
Nov 14 2011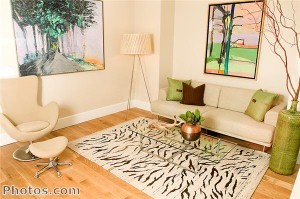 Personal taste in art is an important element in designing a room.
If there's one feature that has been the hallmark style of designer Jonathan Adler, it's individuality.
"Personal style means having a space that's comfy but filled with stuff that has meaning to you," he told Elle Décor magazine. "It should hold things created and inspired by passionate people. Personal style should make you happy and happiness is chic."
Adler is best known to TV audiences as the head judge on the show Top Design, but he has also authored design books, headed retail outlets and designed for a multitude of clients.
One of Adler's favorite ways to show individuality is to layer furnishings in unexpected ways. Attaching a brass lion's head door knocker to the door of a modern apartment or adding an upholstered chair to a corner of the bathroom are examples of his style.
The same approach can be taken with
window treatments
. For instance,
roman shades
can have a simple, contemporary look in flat-fold styles, but add an air of elegance in the classically shaped teardrop construction. Both are available among the Blinds Chalet's selections of roman shades, with 30 percent discounts available from coupons that accompany all requests for free samples.
Bookmark/Share this page: