Soft sheer shades are a good choice to outfit a great room's windows
Nov 11 2011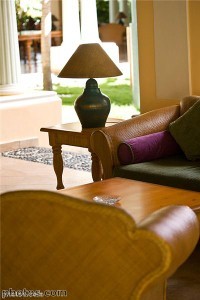 Different seating arrangements make the best use of a home's great room.
The space afforded by a home's great room can provide a variety of seating arrangements to accommodate family gatherings, large and small.
Whether to entertain visitors or to set up different activity areas in the room, home decorators can provide clusters of seating that will allow one-on-one conversations and room for larger groups as well. That can be achieved by setting aside a dining area separate from sofas or an arrangement of soft seating with end tables for beverages and snacks.
According to the Boston Globe magazine, several furniture pieces in the same style can be spread throughout the room, while rugs in different areas can be the same color but in varied patterns to provide a pulled-together look across the expanse of a great room.
Bringing in enough natural light to such a space can be a challenge, and
window treatments
should be chosen to fit different functions in the room. Soft
sheer shades
from Blinds Chalet are an affordable window covering that fits both formal and casual décor, and can provide an open view of the outside or complete privacy depending on the fabric chosen.
Bookmark/Share this page: