Shabby chic style includes muted hues, soft fabrics and vintage look
Nov 11 2011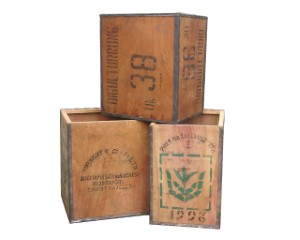 Vintage containers are among the collectibles that fit shabby chic decorating.
For rooms that are reminiscent of an earlier era, home decorators can adopt the muted tones and soft furnishings of the shabby chic style of decorating.
The look begins with colors that include creamy white, muted gray, dusty peach and light green, which are often associated with a botanical or seaside theme. Rather than bright florals, a faded look prevails in subdued prints and stripes.
These hues are generally complemented by throw rugs, sheer curtains and vintage accessories. For
window treatments
, horizontal fabric shades from Blinds Chalet are a versatile choice for shabby chic decorating. They combine the softer look of a window shade with the style of
pleated shades
and function of
venetian blinds
.
"This style has become popular because of its accessibility and affordability," according to HGTV. "White-painted furniture, painted motifs, muted colors, slipcovers and vintage fabrics are all indicative of the comfortable, eclectic look."
Sofas and wicker sidechairs with large cushion seats fit this style. Old wooden furniture from flea markets and garage sales can get the shabby chic treatment by being painted white, with corners and edges sanded to give an aged appearance.
Bookmark/Share this page: