Signature faux wood blinds have both sophisticated style and durability
Nov 10 2011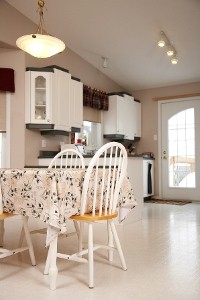 Heat and moisture resistant Signature faux wood blinds are an excellent choice for kitchens.
For homeowners who are looking for a sophisticated window covering that will add a classic look to any room in the house, the Signature line of Blind Chalet's
faux wood blinds
will fill the bill.
"Signature Composite faux wood is our top of the line [in]
faux blinds
," according to the company's website. "Made of a composite mixture of wood and polymer, our Signature blinds will stand the test of time."
The composite material is designed to prevent warping or color fading and is more durable than lower quality, conventional foam extruded faux wood blinds. Because these composite blinds are also chip and heat resistant, they are an excellent choice for rooms that contain high heat or moisture content, such as kitchens and bathrooms.
In addition to six white and off-white selections, the Signature line is available in wood stains that include pecan, maple, chestnut, mahogany and oak. A matching decorative crown valance is included and an upgrade is available for designer tapes in a wide range of solid colors and beautiful patterns in florals, paisley and twill motifs.
Consumers are encouraged to request free samples for close color matching. Each sample is accompanied by a discount coupon for a 30 percent savings off the regular price.
Bookmark/Share this page: