Caman natural woven wood shades offer homeowners double savings
Nov 10 2011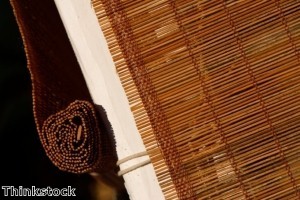 Woven wood shades are an eco-friendly choice in home decor.
Caman natural
woven wood shades
have a double offer for extra savings to homeowners – they are produced by Blinds Chalet in one day or they are free and, for a limited time, they come with free edge binding.
"Each Caman natural woven wood shade is made in the USA as a roman style shade with a matching woven wood valance," according to the company's website. "Choose from several woven wood styles made from all natural wood, bamboo, jute, grass, and reeds."
In addition to the free edge binding, which protects the blinds from breakage and bending, there are upgrades available for top down bottom up styles and blackout liners. Edge bindings are available in white, black, moss green, beige and various shades of brown.
Bamboo woven wood shades are made from sustainable natural resources such as wood, bamboo and rattan. Their natural look varies in color, grain, and texture. Blinds Chalet encourages consumers to send for free samples before ordering so they can see the color variations of the shades. Each sample provides extra savings because it is accompanied by a discount coupon for 30 percent off the regular price.
Bookmark/Share this page: