Simplicity in design creates a cozy atmosphere for designer's Michigan home
Nov 8 2011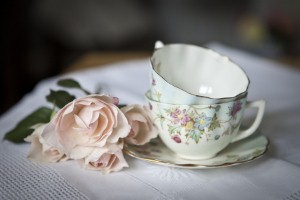 Vintage china can be included in decorative vignettes similar to those created by designer Alli Michelle.
The guest room design says it all – the nightstand is a small stool topped by a few books and a clear glass jar filled with sprigs of greenery. A simple wood-framed mirror hangs above it.
That's the approach throughout the Michigan home of Alli Michelle, who writes about design on her blog, Hooray. "We love simple design, but we also want a home that feels lived-in," Alli Michelle told Houzz.com.
She and her husband started with a new paint job throughout their small home, then blended a selection of modern and vintage furnishings that gave the space a unique sense of style while creating a warm and cozy atmosphere. A large rattan basket topped by cushions that Michelle made provides additional seating in her living room. The open kitchen adjacent to the dining room allows an easy traffic flow.
Michelle assembles her accessories into vignettes in every room. She makes many items herself, including pillows, and upgrades others like the lampshade for a lamp she recovered with new fabric. "I often gravitate towards certain cute things that I can't resist, like stripes, florals, and little collectible bowls and tiny vases," she said.
She and her husband wanted to keep the wall colors neutral, but that doesn't mean there aren't spurts of color. For instance, in the kitchen, a bright green and white striped fabric is used for a window covering.
An atmospheric painting on a dining room wall was found at a second-hand shop, as were many of Michelle's other treasures. "Thrifted items are usually the most exciting pieces, because they're more random and unique," she told the website. "Plus, I love getting to repurpose something."
Her home has an abundance of natural light, which she often enhances with airy
curtains
. The same effect can be created with Blinds Chalet
window treatments
such as
solar screen shades
or soft
sheer shades
that manage light well but also allow a view of the outdoors.
"We love having a place that we've made our own," said Michelle. "We can curl up on the couch and read a book, or just cook together in the kitchen for a Saturday movie night in."
For households with small children and active pets, there's no need to give up style.
"We've learned to make quite a few decorating decisions based on our pets, like having slip-covered furniture and no breakables at low heights," Michelle told the website.
Bookmark/Share this page: