Bamboo sunscreen roller shades fit the growing 'lndustrial' style
Nov 7 2011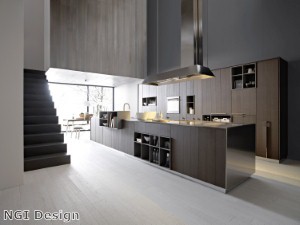 Industrial decor is becoming more broadly used by homeowners.
Increasingly, suburbanites are taking on some of the industrial design styles that have been popularized by urban loft dwellers.
Incorporating such design elements as exposed brick walls and cement floors, the industrial style juxtaposes rustic tables with industrial lighting and rolling carts, and not just from modern-day industry. Influences from manufacturing plants are a good mix with traditional home décor, according to the Associated Press.
Designers say the industrial look is more effective if it's used throughout the home, rather than in one room. A tall industrial lamp fits as well in a bedroom as it does in a living room. Kitchens are an easy place to pair industrial-style accents with stainless steel appliances.
Room elements are needed to prevent industrial décor from looking too cold, and a careful choice for a window treatment can solve that dilemma. For instance, Blinds Chalet offers Tavarua bamboo sunscreen
roller shades
that are eco-friendly, stylish and currently offered at a special discount beyond the usual low price. The shades are available in different bamboo styles with varying openness factors in a variety of wood stains and colors.
Bookmark/Share this page: