Soft sheer shades are elegant, but durable addition to the 'atmospherics' look
Nov 7 2011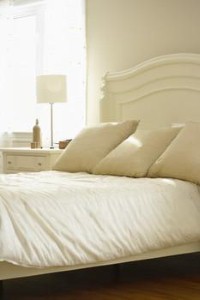 Soft fabrics add to the new design trend called "atmospherics."
Design trends develop in response to daily living needs, and one such trend is geared to creating a peaceful mood when homeowners come home at the end of the day.
The "atmospherics" style relies on soft textures, transparency and iridescence to create a peaceful atmosphere. The colors in atmospherics have an airy, sheer quality. Soft whites, silver and blush shades are the main hues, but they can be offset by tones of charcoal for contrast.
"We're seeking balance and understanding, and we want to unclutter our minds," California-based design consultant Laura Guido-Clark told the Associated Press.
Designers told the news service they are looking for textures in fabrics that include voile, moire silk, slubbed wool, and decorative pieces in crystal, hammered metals, blown glass and ceramic.
The AP reported that Japanese designer Tokujin Yoshioka's newest furnishings range from clear polycarbonate furniture to a soft, white sectional sofa. "I'm fascinated by elements that stir and stimulate the imagination," he said.
For the atmospherics touch in
window treatments
, soft
sheer shades
from Blinds Chalet have a sophisticated airy look, but are made from durable materials that stand up well to daily use. They allow filtered light to enter a room, while maintaining visibility of the outside.
Bookmark/Share this page: