Dining room can be spruced up as time and money allows
Nov 1 2011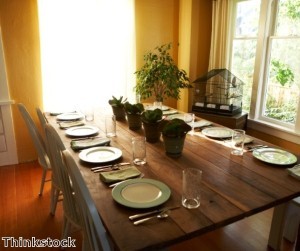 Selecting a new wall color or furniture arrangement can brighten a dining room.
Too often, the dining room becomes an afterthought when it comes to decorating. Whether it is used every day or only for family occasions, homeowners generally concentrate on sprucing up other areas of the house before they turn to the dining room.
It doesn't have to be that way, according to Stephen Saint-Onge, who writes the "Designer Dad" column for Family Circle magazine.
Saint-Onge recently took on a project to create a stylish, but simple dining room with a minimum of fuss and a small budget. "Doing that does not have to break the bank. It can be something you do over time," he wrote. "You can de-clutter, paint walls, get a new table, then get new chairs later on, add some lighting details and new artwork."
Rather than take on the whole project at once, Saint-Onge suggested adding to the project as time and money allow. The starting point, as in most makeover projects, is to choose a color that will have staying power throughout different seasons and be neutral enough to coordinate with a host of colors and patterns.
Homeowners can add some architectural interest by installing wood cornices and valances. Either by themselves or coupled with a blind or shade, the cornices from Blinds Chalet are available painted or in any wood stain of the customer's choice to coordinate with existing furniture and room trim. Now at 30 percent off, they come in the simpler lines of the company's signature line or homeowners can choose from several styles within the platinum cornice selection.
For a lighting fixture, Saint-Onge suggested upgrading a chandelier by spray painting it a new color or adding small lampshades to individual bulbs.
The arrangement of seating around the dining table can be diversified as well. "A dining bench is always a favorite addition to any eating area in my book," according to the designer. "You could easily do two dining benches on either side of the table with two chairs on each end."
At times when fewer seats are needed, the benches can be placed against a wall of the dining area or in another room.
In his dining room project, Saint-Onge added a simple farmhouse table. "I chose [it] to give the dining space a more grown up feel," he said. "If your mood changes or you want to give the room a new look for awhile, you can move the table into a new position."
Bookmark/Share this page: