EcoGreen roller shades are environmentally friendly as well as stylish
Oct 28 2011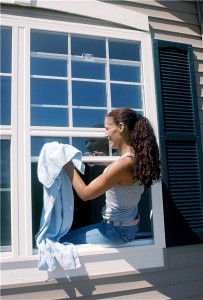 Installing eco-friendly window shades is one of the steps homeowners can take to save energy.
Among the many roller shade selections from Blinds Chalet, an environmentally friendly choice is the EcoGreen roller shade.
EcoGreen shades are made from fabrics that are free of PVC and contain no volatile organic compounds (VOCs). They are 100 percent recyclable.
"Our EcoGreen
roller shades
offer both style and function. We are committed to high quality, environmentally responsible
window coverings
that both help conserve the environment and beautify your windows," states the company website.
EcoGreen shades also contribute to LEED certification because they are energy-saving and improve indoor environmental quality. They also have GreenGuard certification, which is granted by the GreenGuard Environmental Institute for products that meet the institute's standards for indoor air quality.
Blinds Chalet recommends that consumers send for a free sample of the shades, which come in white, black, beige and brown. Each sample is accompanied by a discount coupon that allows 30 percent off the regular price.
In addition to their other features, EcoGreen shades also are fire resistant and come with a lift cord that allows the homeowner to select the position of the cord. A reverse roll feature allows the fabric to roll off the front of the roller instead of the back and conceals hardware for a contemporary, tailored style.
Bookmark/Share this page: