New and practical choices expand options for kitchen flooring
Oct 28 2011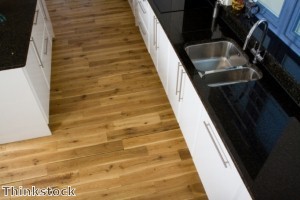 Rugs soften the look of kitchens with wood flooring.
With some practical considerations, homeowners are expanding their view of the type of flooring that works well in kitchens.
Eco-friendly woods such as bamboo, as well as composite materials that resemble real wood, have become popular for kitchen flooring. But to take the edge off the hard look of kitchen appliances and wood floors, rugs also have a place in kitchens.
According to IdeasForHomeDecorating.com, the most important consideration in choosing a rug for the kitchen is its ability to keep up with lots of foot traffic and the spills of liquids and foods that are inevitable in any kitchen.
Kitchen rugs should be easy to clean and in colors that don't show soil readily. Wool is very durable and also cleans more easily than cotton or other fibers used in rugs. To prevent slippage, kitchen rugs also need underlying padding. The rugs should be heavy without being stiff in order to lay flat without corners turning up.
For a window treatment with the same benefits - durability and easy cleaning -
mini blinds
are an excellent choice for kitchens. Blinds Chalet offers mini blinds in a range of colors and finishes as well as a selection to fit any budget.
Bookmark/Share this page: