Starting with paper cutouts, furniture arrangement is made easier
Oct 28 2011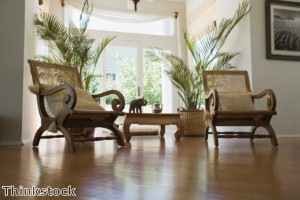 Rearranging furniture is easier to do when it's planned out on paper first.
Instead of pushing heavy furniture around a room, an easy way to arrange a room is to put it down on paper first.
"It's helpful to make cutouts to scale of your furniture," recommends IdeasForHomeDecorating.com. "You can then easily move them around on the plan."
The architectural features - a fireplace, archway to another room, windows and doors - play a big role in how furnishings are arranged. They may be treated as a focal point or part of an area set aside for a particular function, such as grouping seating around a fireplace or building a seat under a large window, the website advises.
Another consideration in furniture placement is the source of lighting, whether natural light coming through windows or artificial light from overhead fixtures and lamps.
Solar screen shades
from Blinds Chalet have a wide range of weaves that can bring in as much or as little daylight as a homeowner chooses and help to prevent fading of home furnishings. The company's Tavarua sunscreen shades, currently offered at a special discount, are available in three different bamboo styles, each with a different openness factor and a wide assortment of colors and stains.
Bookmark/Share this page: