Add texture with wood blinds this summer
Jul 6 2010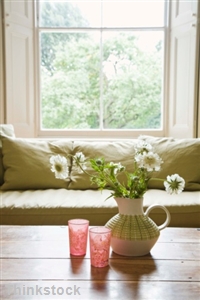 Add texture with wood blinds this summer
With the amount of functions they serve, windows can be the most important part of a room. According to the Hindustan Times, they can both add light and create the illusion of a larger area. However, decorating one's windows incorrectly can be a big drawback in a room.
The source says there are a few options, such as hanging
curtains
or shades that can add a light, airy feel to a room, but blinds offer the most opportunity to provide variety and a certain edginess to any room.
"
Window blinds
come in different finishes such as European wood, vinyl, metallic or sheer fabric.
Cordless blinds
are available that give the window a clean look without dangling lift cords," Gautam Gupta told the news outlet.
Each material has its advantages, but with summer creating havoc for allergy suffers, experts say that
wood blinds
may the best choice. Wood blinds are easy to keep clean and are less likely to collect dust.
Aside from functional advantages, wood blinds can also serve an important decorative purpose. Some industry analysts say wood blinds are one of the best options of adding texture to a room.
Bookmark/Share this page: