Choosing the right window treatment can add light and keep privacy in a home
Oct 25 2011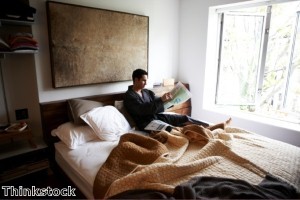 Window treatments can affect the amount of sunlight brought indoors.
As colder months approach, homeowners shift their home improvement skills to indoor maintenance projects that save energy and make their homes cozier and warm.
One of those projects is finding the right window covering to maximize sunlight in a time of year when daylight hours dwindle and still ensure the homeowner's privacy at night.
Horizontal fabric shades are a good choice for this undertaking. They are available in a range of fabrics in linen-look prints or solid colors to match the home's existing décor, while bringing in lots of natural sunlight when fully raised during the day and drawn down at night. They can also be adjusted for light by tilting the shade.
Curtains
are another versatile window treatment that fits well with other soft furnishings. "If all you need is a little softness or privacy from the street level, hang your curtains part way up a tall window," advises TheInspiredRoom.com.
Shutters
can be added to block views into the home, and in lighter colors, they have a vintage look that fits particularly well in country-style or shabby chic decorating.
Bookmark/Share this page: