Soft sheer shades bring together feminine and masculine looks in a room
Oct 25 2011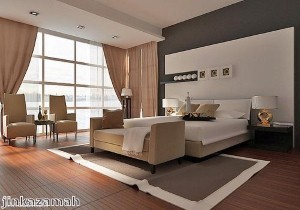 A tailored look in the bedroom appeals to both men and women.
Trying to find a compromise between feminine and masculine decorating styles in the bedroom is a challenge, but not an insurmountable one.
Taking a tailored approach may be the answer. In a tailored style, the bed ensemble replaces ruffles, lace and embroidered edges with sleek, clean design that isn't so austere that it looks masculine. A bedskirt, for instance, can be straight-edged with a simple pleat at each corner.
According to RealSimple.com, the furniture in a tailored bedroom may include a small writer's desk with a cane seat wooden chair, or a simple, upholstered bench at the foot of the bed. Decorative pieces, artwork and lamp styles can be geometric, but in subdued colors to soften the look.
The website recommends that the main colors of a tailored bedroom be neutral with one bold color for an accent.
Soft
sheer shades
have a clean, crisp look that fit well with the orderly decorating scheme of a tailored bedroom, but allow light to stream inside while casting a soft look onto the room. Blinds Chalet offers affordable, light-filtering privacy fabric that can be adjusted to a sheer fabric for a greater view of the outdoors.
Bookmark/Share this page: