Next year's top colors draw from the rich hues of nature
Oct 24 2011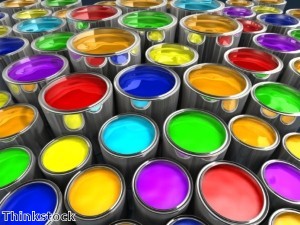 A new palette of colors are expected to be popular in home design in 2012.
The top colors for 2012 have been announced by the Philadelphia-based Paint Quality Institute, and they draw heavily on nature's hues.
"Native plants and flowers, oceans and lakes, and rocks and minerals are the sources of inspiration for the paint colors that will be 'in' next year," states the institute's color expert Debbie Zimmer. "If you're thinking about repainting your home interior, look to the great American outdoors."
Blues are continuing their popular presence from this year, from colonial-style blue gray to clear sea blue. Blue is a soothing color that works in virtually any room where people go to relax, but it's versatile enough to be sparked by bold, contrasting accents.
The range of greens on the horizon take their inspiration from deep forest tones to a lighter shade of celery. Zimmer said they are a natural for dining rooms and kitchens, but that family rooms and bedrooms also look stylish in the new greens.
A new blue-red mix of violet is reminiscent of mountaintops. "A harmonious combination of patriotic blue and red hues, violet can add 'punch' to any room when used as an accent color, or serve as the dominant color in a bedroom," Zimmer advised.
For a window treatment that brings out the best of the new hues, Blinds Chalet's selection of soft
sheer shades
can be counted on to cast a natural light through a durable window covering. Available in both light-filtering and room darkening versions, soft sheer shades are made affordable through ongoing sales and discount coupons offered by Blinds Chalet.
In addition to selecting the new palette, the institute predicts several decorating trends that are on the rise.
The use of more patterns - houndstooth, lace and blocks - will be used as room focal points or can act as a subtle, textured backdrop. The classic combo of black and white is also staging a comeback in both traditional and contemporary settings.
"The pairing is a great way to freshen an interior with something smart and stylish," said Zimmer.
In exterior colors, consumers will see
shutters
shifting to monochromatic looks rather than in high contrast to a home's base color. "You'll see more shutters that are painted just a shade darker than the siding," explained Zimmer. "Owners of homes with stone exteriors can get in on things by matching the shutter color to the dominant color of the stone."
Bookmark/Share this page: