Australian designer Joan Hall relies on design 'essentials' for room makeovers
Oct 20 2011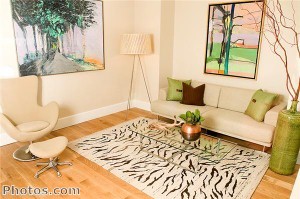 Texture, color, light and balance are essential to good home design.
For Australian interior designer Joan Hall, no room makeover is likely to succeed without an understanding of four essentials – color, texture, light and balance.
But her approach, as she explained it to the Eastern Courier Messenger in Adelaide, is to integrate these principles in a way that will stay affordable for the customers who frequent her furnishings shop, Eclat Bazaar and Interiors.
"Add some new cushions and throws, photo frames and maybe one or two inexpensive new furniture pieces," she told the newspaper. "Or add a couple of pieces of vintage inspired items to the mix - one coloured piece of furniture adds drama."
For texture, Hall is currently interested in using more raw woods, industrial metals, canvas art and fabrics. They can be paired with the new trend of metal wall art, instead of traditional paintings and prints.
"One or two amazing pieces add drama and focus to a room," she said.
Into this mix, the homeowner should consider the role that light will play in illuminating the space. The right choice of
window coverings
can influence the lighting of a room, while providing privacy as needed.
Blinds Chalet has a wide selection of bamboo woven woods shades that bring eco-friendly texture and variated natural wood tones to a room. They are available in both vertical and horizontal styles at affordable prices through ongoing sales and discount coupons.
In Blinds Chalet's Tavarua line of
bamboo roller shades
, the bamboo is woven into a sunscreen pattern in various levels of openness in the weaves, depending on how much light the homeowner wants to filter into the room. for rooms where privacy is essential, the Signature line of woven woods is available with privacy lining and currently includes free edge binding, which keeps the shade edges from breaking or unraveling.
To strike the right balance in a room design, Hall advises consumers that they should be able to move freely through a room. "Put the clutter away in a box," she told the Eastern Courier Messenger. "Keep what you love, or already have, and mix it up with a few new items that add freshness."
Hall's personal favorites for accessorizing a room include textured cushions in colors that contrast with neutal walls, vintage pieces that can be paired with modern furniture for a mix of old and new and functional art, such as a beautifully designed clock.
Bookmark/Share this page: