Inspiration for container colors and textures can come from room's drapery
Oct 19 2011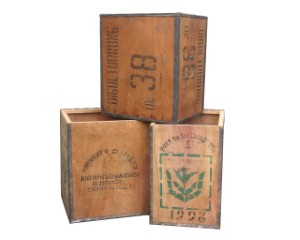 Vintage wooden boxes are among the many containers that homeowners can use to store things attractively.
There are shops, and whole sections of department stores, that focus on one thing that organizes and stores household possessions – namely, containers.
But containers have taken on a place of their own in home décor, from decoratively painted wood to wicker to contemporary metals. They have become part of the style of a room, as well as functional.
According to Ultimate Home magazine, even wastebaskets are being styled to do more than contain trash. In the bathroom, they can hold a stack of rolled-up bath towels placed next to the bathtub in a look that's fit for a spa.
A container matching the décor of a living room can be placed next to a reading chair to hold magazines and books. A brightly colored plastic bin can provide instant storage for a collection of gadgets and little toys in a child's room.
Containers can complement a room by integrating the colors or patterns of coverings on nearby windows.
Custom drapery
in a range of fabrics and textures from Blinds Chalet can be integrated into any room's décor. With ongoing sales and discount coupons, the company also provides various styles in
drapery hardware
,
curtain rods
and finials to create a personalized look to fit any budget.
Bookmark/Share this page: