Cellular shades are a good choice when redecorating a bathroom
Oct 19 2011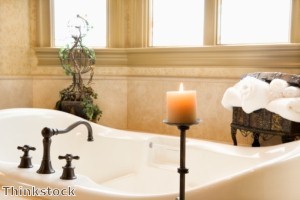 Several elements can create a vintage look in a bathroom.
With some imagination, home decorators can bring a vintage look to their bathrooms without breaking the household budget.
According to RealSimple.com, placing an old wooden nightstand into the bathroom can provide storage for small towels or toiletries and a surface for hand mirrors, candles and accessories.
A sink skirt around a modern pedestal sink gives it an old-time look, and hides clutter. Toilet paper and cleaning supplies can be hidden by an attractive cover that coordinates with other colors in the bathroom, including those in the room's window treatment, the website states.
Honeycomb cellular shades
from Blinds Chalet are a good choice for energy savings, because they offer insulation from window drafts and strong sunlight. They moderate the temperature in bathrooms to keep them warm on chilly days and cool during summer. Currently, Blinds Chalet is offering a free option of duofold shades in the Premier and Signature cellular lines, including blackout
single cell shades
for total privacy.
Woven baskets also give a vintage look to their surroundings, either in a natural finish or painted off-white, to hold small towels or bath supplies.
Bookmark/Share this page: